On this Page:
---
What is an Authorized User and Proxy Access?

An authorized user is a family member or friend of a student that has been given proxy access to designated portions of their records. Proxies can optionally also make payments to a student's account on the student's behalf. The proxy accesses these records through the Kalamazoo College's web-based Self-Service system, Hornet HQ. Please note that the student has the right to rescind access granted at any time.
How Can I Receive Proxy Access to My Student's Account?

To protect student privacy, the Family Educational Rights and Privacy Act (FERPA) requires us to obtain student permission before sharing their educational records. In order for a proxy to receive access to a student's account the student must grant access first. For information on how students may grant parents, guardians, or other users online access they can visit the Instructions for Students to Grant Access page. Again, please note that the student has the right to rescind access granted at any time.
Instructions for Proxies
Initial Login

When a student designates a proxy for their account at Kalamazoo College, the proxy will receive an email notifying them of their access and telling them their username. The proxy will receive a second email that contains their temporary password, unless that person already had access to a Kalamazoo College account.

If the proxy does not receive an email, their email address may be incorrect and the student would need to update the e-mail address with the Registrar's Office by calling 269.337.7204 or emailing regist@kzoo.edu. The proxy should also double-check their email "spam" folder, as automated messages can sometimes be found there.

Proxies can sign in to Hornet HQ using the username and password they received via e-mail, or if they already had a Kalamazoo College account, using their regular network username and password.

Note: The initial password sent to a proxy is a single-use temporary password and the proxy will be prompted to create a new password. The new password should be recorded. The single-use password sent in email will not work after the proxy has set a new permanent password. If the proxy has forgotten their permanent password, they can use the "Forgot your user name or password?" link at the bottom of the Hornet HQ login page.
Returning Proxy – Login Instruction

Each time the proxy signs in, they will need to identify the student in which the proxy is acting on behalf of. Please follow steps 1-3 to identify your student:
Select the name of the student when the Person Proxy box appears.

This box is labeled "Person Proxy" accompanied by the message "Welcome to Hornet HQ! Select the person's account you want to view:"

After choosing the student's name, select Continue.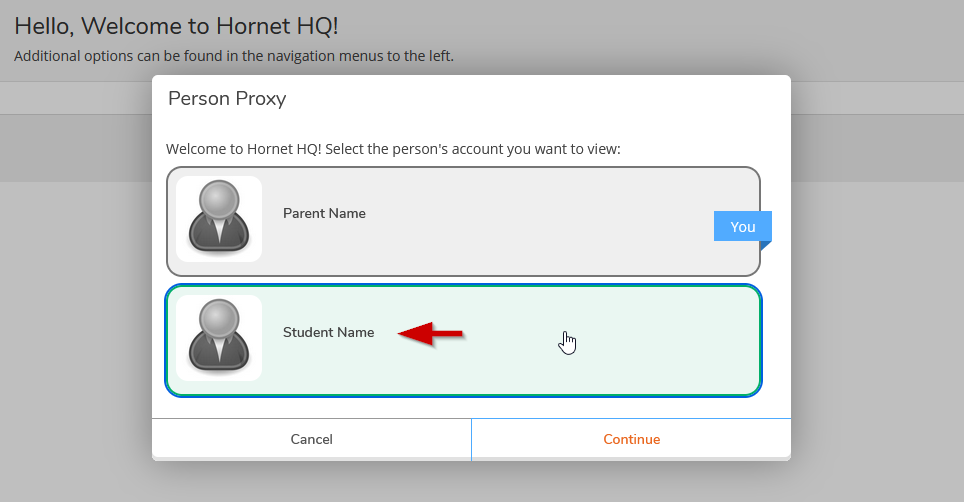 After choosing Continue, a proxy should see a green banner at the top of the page with "(proxy name) acting on behalf of (students name)."

Proxy Reauthorization

Proxy access is turned off after a time if the student withdraws from K or graduates. If a proxy logs onto Hornet HQ and finds a message 'Reauthorization Required' next to their student, the student must reauthorize the proxy before the proxy will regain access.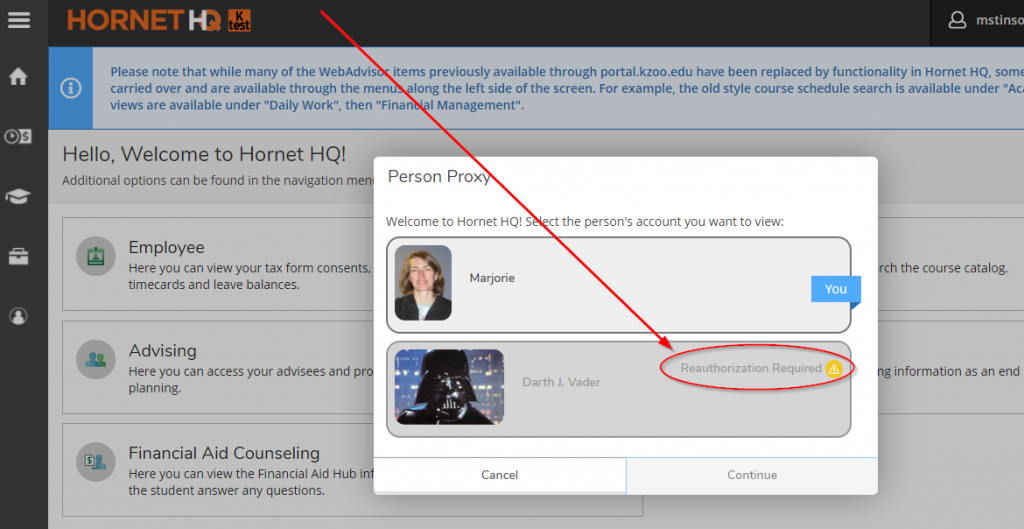 Forgot your Password or Username?

Reset your password by using the "Forgot your password" link on the Hornet HQ login page. You will need to enter your username and an email with a temporary password reset link. Follow the instructions on the page and when the new password is successfully entered, Hornet HQ will send another email confirming that the password has been reset. Please be sure to check your spam folder if you do not see your confirmation email.

To retrieve your username, use the "Forgot username" link on the Hornet HQ login page and an email will be sent with that information.
Changing Proxy Contact Information

To change a student's proxy or parent contact information the STUDENT must contact the Registrar's Office by either completing the Change of Address Form or via phone at 269.337.7204 or email at: Regist@kzoo.edu.
Help When Signing Into Hornet HQ

For help with signing in to Hornet HQ, please contact the Kalamazoo College Help Desk at HelpDesk@kzoo.edu or call 269.337.5800. Please note the Help desk hours are Monday – Friday: 8:00 a.m. – 12:00 p.m. and 1:00 p.m. – 5:00 p.m. and hours are reduced during breaks. To learn more about the current hours offered visit the About page.

For security reasons, please provide the following information as it is on file and allow 24 business hours for response:
your full name
your email
your phone #
student's full name
Additional Proxy Questions

For questions that are beyond logon/access issues please contact the following departments:
Student Billing – For student billing questions email Billing@kzoo.edu or call 269.337.7226.
Financial Aid – For financial aid questions email FinAid@kzoo.edu or call 269.337.7192.