On this Page:
---
Teams
Microsoft Teams has built-in chat functionality in multiple ways. Since Information Services is still in the early process of implementing Microsoft Teams for faculty, staff, and student use please view the specific documentation below from Microsoft to learn about chats and channels through Teams at K.
For additional documentation on other Teams features, visit the Microsoft Teams IS page.
Desktop Instant Messaging
K Information Services also maintains a real time collaboration server for instant messaging and provides Pidgin and Adium chat programs (clients) on faculty and staff desktop computers. Note: Effective June 30, 2021 this service will no longer be provided so that we can concentrate our limited resources on other services. Chat service is available through Microsoft Teams, our recommended and supported solution.
Pidgin (Windows)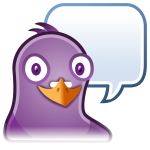 Pidgin is installed on faculty and staff Windows computers by default. To download and install on your home computer, visit the Pidgin download page. The following instructions work the same for on-campus and off-campus connections.
Setup Instructions
Locate the Pidgin app in your Start menu and open it.
Click the Accounts link at the top and select Manage Accounts
In the Accounts popup, Click the Add… button
On the Basic tab, set

Protocol: XMPP
Username: your shortform KNET username (e.g. jdoe)
Domain: knet.kzoo.edu
Resource: Spark 2.6.3
Password: your KNET password

On the Advanced tab, set

Connection security: Require encryption
Connect port: 5222
Connect server: im.kzoo.edu
File transfer proxies: proxy.eu.jabber.org

click Add
Adium (Mac OS)
Faculty and Staff Mac users may request chat client Adium by contacting the Help Desk.