On this Page:
Standard Printing

Standard laser printing is available in the computer labs and the library, from either the lab computers or your own wireless-enabled device.
Who Can Print
Current students, faculty, and staff with a Kalamazoo College network account can print on the library and laser printers. It is not possible for guests to print.
Cost
To cover paper and toner costs, printer maintenance, and to discourage waste, Information Services uses PaperCut software to track the number of pages printed on campus laser printers and charges a nominal printing fee of 10¢ per page for standard 8 ½ x 11″ black and white printouts.
Wireless Printing – Using PaperCut with your Device
Select your device type below to learn how to set-up PaperCut for standard wireless printing.
Windows: Use Mobility Print

Make sure your Windows device is connected to the Eduroam network.

Download and run this Mobility Print Printer Setup
On the License Agreement screen, click Next.
Select one or more printers you want to use; then click Next.
Enter your PaperCut Username and Password; then click Next.
Click Finish.
Print your document.
To add more printers, run the downloaded Windows Printer Setup again.
MacOS: Use Secure AirPrint

Make sure your Apple Mac is connected to Eduroam network.

Navigate to System Preferences > Printers and Scanners.
Click the refresh? icon under the Printers List.
The Add dialog is displayed. This dialog displays a list of all of the discovered printers on the network.
Select a printer. The Name, Location, and Use is displayed.
Check that Use is set to Secure AirPrint.
If Secure AirPrint is not displayed:
Close the Add dialog.
Disconnect from the network.
Reconnect to the network.
Try again. If you still cannot see Secure AirPrint, contact PaperCut Support.
Click Add.
Print your document. When prompted enter your PaperCut username and password.

The username may autofill as the name of your device. Your K username (e.g.k19ab01) must be used to authenticate properly.

Repeat for any other required printers.

If are not sure how to print from your application, take a look at Print from your Mac.

NOTE: If you enter the wrong authentication details, MacBook devices do not show any warning message and your job will not print.

If your job doesn't print, check the Print Queue dialog. If the print job is there and has the message Held for authentication, click the "refresh" icon; then re-enter your login details.

Mobility Print supports macOS Yosemite+.
Android: Use the Mobility Print App

Make sure your Android is connected to the Eduroam network.

Install the Mobility Print app from the Google Play Store.
Launch the app.
Tap Android settings.
Tap Mobility Print.
Tap the enable toggle.
Exit out of Settings.
Print your document. When prompted enter your PaperCut username and password.

NOTE: The way you print is different depending on the app you want to print from. For more information, see the documentation for the app. When you select a printer, make sure you select a Mobility Print printer as identified by the PaperCut icon.

If you select the Remember me check box, your phone will remember your login details for that printer for 30 days.


Mobility Print supports Android 4.4+.
Office Printer Repair
The College has funded repair services for IS supplied departmental network printers, and now Information Services can assist you with the repair of these printers. If your department's network printer is experiencing problems, please email HelpDesk@kzoo.edu or at 269.337.5800 to submit a repair request. If a printer can not be repaired on campus, Information Services will contact the College's authorized repair company.
Student Print Credits

Student print credits don't apply to color printing.
Print Credit Allotment
One printed page (including two sided printing) equals one print credit. Students are allotted 100 free print credits per quarter, with two exceptions: students receive 200 print credits in the fall quarter of their first year to offset First Year Seminar assignments, and 300 print credits in the fall quarter of their senior year to offset SIP printing costs. Credits stay in student printing accounts, accumulating each quarter.
Checking Printing Accounts
Students can access printing details, like credit balances and print history, by logging into papercut.kzoo.edu
Adding Print Credits
Students may purchase print credits for 10¢ per page at the Circulation Desk in the Library. Students may add credits to their printing accounts in increments of 10¢. Consider how many credits you need before purchasing them; if you run out of credits, you will not be able to print.
Transferring Print Credits
Students may transfer print credits to another Kalamazoo College student account by conducting the following steps:
Log into Papercut using your Kalamazoo College credentials
Select the "Transfer" tab
Enter the amount you would like to send under the "Transfer to User" field
Enter the exact username (not email address) of the person you would like to send print credits to.

Username example: k12ab34

Select the Transfer button for print credits to be transferred immediately.
Checking your Transfer
Select the "Transfer History" tab to review your transfer details such as the amount and the user your transfer was sent to.
Transferred to the Wrong Person?
Please speak to a supervisor at the Circulation Desk if you have transferred your print credits to the wrong person.
Reimbursement
Information Services cannot reimburse students for unused credits; however, students can transfer print credits to another Kalamazoo College student account on campus. You may request a refund of print credits if a printout is unreadable, wrinkled, or caught in a paper jam. Bring the flawed pages to the Library Circulation Desk to receive a print credit refund. You CANNOT request a refund for non-printer errors such as blank pages at the end of a document, printing a document in error, or spelling mistakes.
Off Campus Study
Students studying off-campus will accumulate the number of credits outlined above. However, students studying off-campus for nine months will not receive extra print credits when they return in the Fall. All printing accounts are refreshed in the summer.
Additional Questions
For additional questions about print credits please connect with the circulation team in person or via email at circulation@kzoo.edu.
Color and Large Format/Poster Printing

Color and large format printing (e.g. posters) is available for a fee during business hours in the Center for New Media Design (CNMD), located on the first floor of Upjohn Library Commons.

Student print credits cannot be used in the CNMD. Please pay by cash or check; credit cards are not accepted.

Students are responsible for printing their own work, except what is printed on the large format printer. The large format printer is available for academic use only. Art students needing to print their work to the large format printer can schedule a time to be trained in using the printer. Call the Center for New Media Design at 269.337.7137 or stop by to schedule an appointment.
Color Printing Prices
Laserjet Printing

Plain paper, grayscale

Letter (8.5″ x 11″): 10¢
Legal (8.5″ x 14″): 15¢
Ledger (11″ x 17″): 25¢

Plain paper, color

Letter (8.5″ x 11″): 50¢
Legal (8.5″ x 14″): 75¢
Ledger (11″ x 17″): $1

Matte paper
Inkjet Printing

Matte paper (grayscale or color)

Letter (8.5″ x 11″): $1
Super A3/B (13″ x 19″): $5
A (17″ x 22″): $7
36″ x 24″: $10.50
48″ x 36″: $21
24″ x 32″: $9.30

Pearl paper (grayscale or color)

Letter (8.5″ x 11″): $1
Super A3/B (13″ x 19″): $6
A (17″ x 22″): $9
36″ x 24″: $19.50
48″ x 36″: $35*
24″ x 32″: $17.33

For any size over 17″ x 22″

Price is determined by square foot of the print size.

Matte: $1.75/sq ft
Pearl: $3.25/sq ft

Print material options that are only available for print sizes over 17″ x 22″

Adhesive back fabric: $3.25/sq ft
Fabric: $5/sq ft
Paper and Fabric
The matte paper used in inkjet printing is LexJet's Premium Archival Matte Paper. It is "a smooth, neutral-white, matte paper for high-quality fine art and photo reproduction. The paper supports accurate color reproduction and high-contrast, high-resolution output, and is acid-free for a longer print life with pigment inks. It features a heavy weight (230 gsm), thick base (9.5 mil), and an instant-dry coating that resists fingerprints and smudging."
The pearl paper used in inkjet printing is LexJet's Sunset Photo eSatin 300g. It is a "premium-quality, resin-coated inkjet photo paper that professional photographers rave about. They like it because the prints they deliver to their customers feel noticeably thicker, heavier, and more durable than mass-market inkjet photo papers; the latest generation is even thicker than before at 11.5 mil. The slightly textured, satin (or lustre) surface is like the E-surface papers that were popular in darkroom printing. The print surface doesn't show fingerprints or reflect glare like glossy papers. This paper's excellent ink retention properties produce an exceptionally large color gamut for bright, realistically saturated colors and accurate skin tones. Plus, the latest version has an even wider color gamut and an improved white point for greater contrast."
The adhesive back fabric, Photo Tex, sticks to any non-porous flat surface and is easy to install. Photo Tex works indoors, so the sharp graphics will not shrink, wrinkle or rip in any temperature. Photo Tex wraps around corners, poles, and it is removable, reusable, and repositionable and won't leave residue behind. Other application ideas for this fabric include windows, doors, sign boards, and elevators.
3D Printing

MakerBot 5th Edition 3D Printers are available in our Learning Common as well as at the Raymond H. & Robert H. Borkenhagen Center for New Media Design.
Who Can Use the Printer?
Current students, faculty, and staff with a Kalamazoo College network account can use the 3D printer. Direct printing requests to Josh Moon, Educational Technology Specialist via email at Josh.Moon@kzoo.edu or visit the Center for New Media Design. If you are a faculty member interested in building a 3D printing activity into your course, we are happy to collaborate on ideas across the curriculum.
What is the cost for printing?
3D printing at Kalamazoo College is now available at no cost for students, faculty, and staff to expand access and foster experimentation. Information Services reserves the right to limit the size/number of prints for individual use and prioritize academic projects in the printing queue.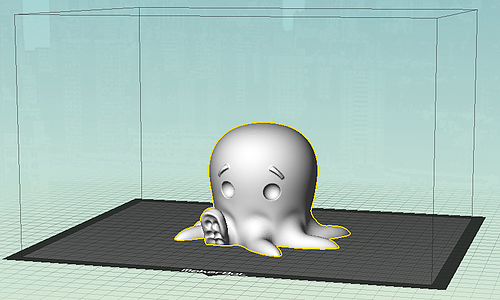 Need Ideas?
The quickest way to find something to print is via the online repository Thingiverse. If you wish to create your own objects, there are many ways to begin working with 3D models. TinkerCAD is a versatile online program great for everyone from elementary students to creative adults. A more clay-like experience is available online from SculptGL. For a more advanced, professional design environment, users are invited to work with the software Blender available on campus computers.
3D Printing Questions, Ideas, or Problems?
Contact Josh Moon, Educational Technology Specialist, at 269.337.7415 or Josh.Moon@kzoo.edu.