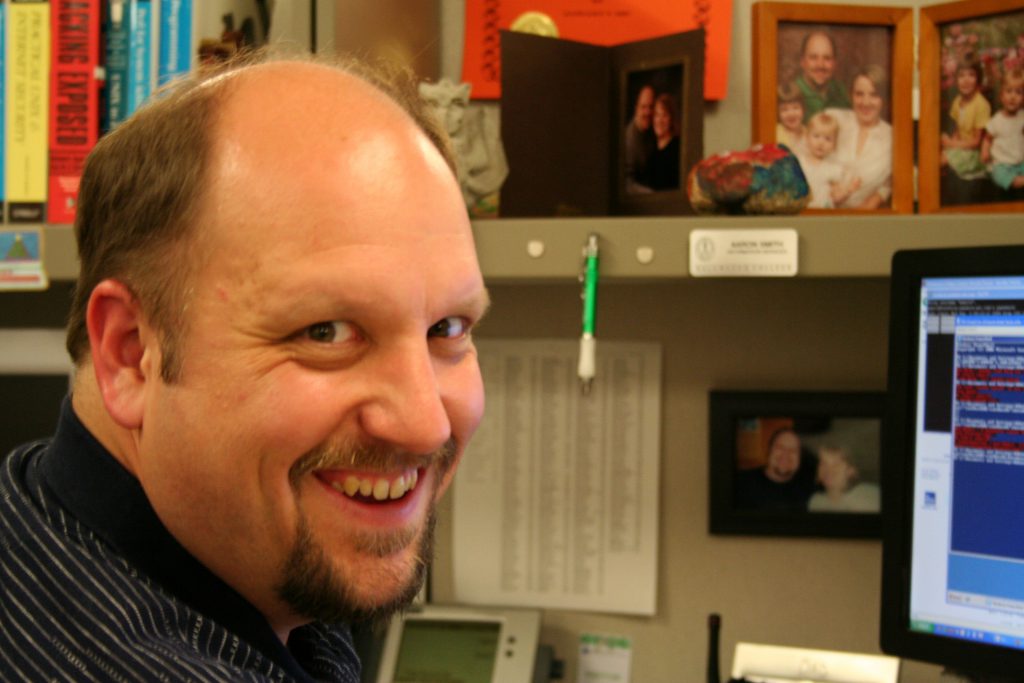 Aaron Smith
Systems Administrator
What might people around campus see you doing?
If you time it right, you might see me getting coffee at The Book Club. Otherwise I'm bent over a keyboard in an undisclosed location.
What is the most common phrase you say in your position?
Testing proves that testing works.
What is the best tip you can give anyone?
Get a Password Manager…use it and back up its contents somewhere safe. You may think it's ok to use the same password for everything, but it really isn't. Don't be a statistic.
Do you have a hidden talent? What is it?
I've run Dungeons and Dragons games in venues as small as the local game store and as big as the annual game convention GenCon in Indianapolis. Not sure if that counts as a hidden talent though.
What is your go-to karaoke song?
Trust me, it would be better for everyone if I stayed away from a karaoke mic. However, if I did…I would pick something like Party in the USA, but sing the Weird Al Yankovich version…Party in the CIA.
Submit your Questions
Are there questions that you would like to ask our team? Is there a bit of news or information you would like to see on the IS website? If so, please contact Katrina Frank, the Web Services Specialist with IS at Katrina.Frank@kzoo.edu.
Need Help?
Please note, if you have a technical issue and need assistance please contact the Help Desk at HelpDesk@kzoo.edu.
Was this post helpful?
Let us know if you liked the post. That's the only way we can improve.